Description
Professional CFPB TRID Closing Disclosure 5 page Form Software. For Real Estate Sale closings with Buyers and Sellers.  This form replaced the HUD-1 settlement statement.
Closing Disclosure Form is an Excel file. Simple and Easy to use and to make last minute changes.
Closing Disclosure Form Features
Professionally formatted.
Formulas help with calculations and totals
Tax Proration Formulas
Unlimited use  make as many Closing Disclosures as you need
Letter size  8.5 x 11
Easy to adjust numbers or make changes
Digital delivery – no waiting for shipment
Download after Payment
Customize it – Change the font type, font size, etc.
5 standard pages
Excel spread sheet
Works on Mac or PC, if you have Excel or openoffice.org (free)
Benefits
Quickly and Easily Create Closing Disclosures
1 time fee for Unlimited use
No Waiting on someone else, you can create your Closing Disclosure whenever you want.
Save Closing Disclosure as PDF files  – to Email to lenders or clients
Easy to do,  just type in your information and print a professional copy.
Simple to use
Easily open Closing Disclosures and make quick changes, if needed.
No upgrades to purchase
No Monthly fees
No Registration codes
100% Satisfaction, 30 Day Money back Guarantee
Bonuses
Sample copy of a Closing Disclosure – with sample data and numbers to use as a reference.
Closing Disclosure Instructions –

Detailed instruction

on how to fill-in and prepare a complete Closing Disclosure.
TILA-RESPA Integrated Disclosure rule – Small entity compliance Guide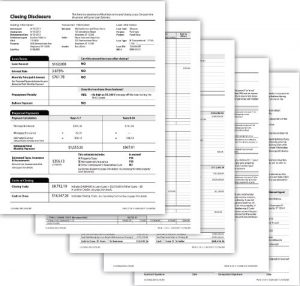 The Closing Disclosure Form replaces the Truth-in-Lending Act (TILA) disclosure and the HUD-1 Settlement Statement. Under the final rule, the creditor is responsible for delivering the Closing Disclosure form to the consumer, but creditors may use settlement agents to provide the Closing Disclosure, provided they comply with the final rule. There is still a requirement for one Closing Disclosure for each loan and charge descriptions used on the Loan Estimate must be substantially similar to the descriptions used on the Closing Disclosure form. This is so a consumer may easily identify a change in costs or terms by a comparison of the two forms.